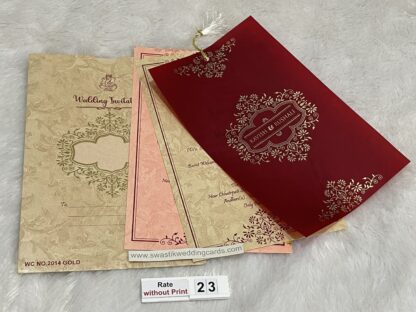 Jacket style fancy wedding invitation card with red tracing paper and two inserts.
₹23
This is a jacket style wedding invitation card made of self textured metallic paper and it has a red tracing and 2 mettalic paper inside it.
Note: Printing and shipping charges will be extra. Refer T&C
Need Help ?
Chat
Call
E-Mail
Share
Additional information
| | |
| --- | --- |
| Weight | 33 g |
| Dimensions | 16 × 24 cm |
SKU:

TRVJ-2014 Gold
Categories: Folder Wedding Cards, Hindu Wedding Cards, Lasercut Wedding Cards, Muslim Wedding Cards, Punjabi wedding cards, Single Invitation cards, Theme Cards
Tags: # lasercut cards # lasercut wedding invitation cards # latest marriage cards # single invitation cards # simple lasercut cards # premium lasercut cards # lasercut marriage invitation cards, #floral wedding invitation cards#simple wedding cards#floral invitation cards#designer wedding invitation cards, #lasercutcards#florallasercutcards, #simple wedding invitation cards#royal invitation cards#embossed wedding invitation cards#acrylic invitation cards, #singleinvitationcards#invitationcards#openingceremonycards#housewarmingcards#houseopeningcards#plaininvitationcards#mundanceremonycards#ringceremonycards#engagementcards#partyinvitationcards, #TRADITIONAL INDIAN WEDDING CARDS#DULHA AND DULHAN#GANESHA WEDDING INVITATION CARDS#POPUP WEDDING INVITATION CARDS